With Andrea Brognano, LMHC, LPC, NCC,
& Founder and CEO of Therapy Connection Online
Business In Between Podcast, Episode 01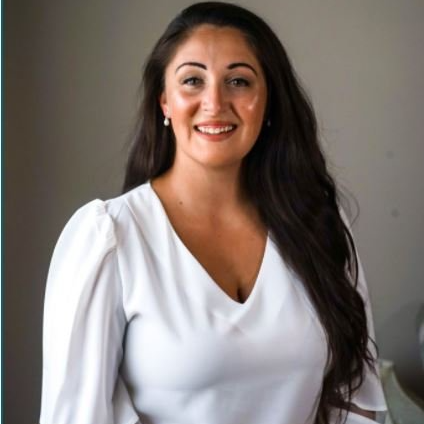 Andrea has been doing things her way her entire life. Naturally, she's continuing that trend as a business owner.
Andrea is a psychotherapist as well as the founder and CEO of Therapy Connection Online, a virtual group counseling private practice serving multiple states on the east coast.
Starting a private practice on her terms
When it comes to starting a private practice in counseling, there is a certain formula most clinicians follow. There are known business structures, industry trends, marketing plans, and decision trees.
Andrea threw that playbook out the window.
First, she started a virtual therapy practice before COVID and telehealth were words any of us had even heard of.

Second, she skipped the step of starting out with an individual counseling practice. Instead, she went right into managing a virtual team across multiple states. 

Starting and growing
a business differently than others in your field
In this episode, we're focusing on significant things to consider when opening or growing a small business that's different from the existing mold in your industry.  Through Andrea's story, you'll learn about:
Choosing a business entity that fits your goals and work style.
When you have a clear mission statement, legal structure, and business structure, it's easier to decide on an operations plan.
Being thoughtful about your business name.
As your team, impact, and customer base grow, you'll have new business ideas.  Does your business name give you the flexibility you need to grow?
Clarifying your target audience. 
Understand what they want from your business and the different ways you might need to provide that service.
Identifying the roles you want to hire for.
Initially, as a business owner, you are likely going to wear many hats. The type of business you own, the customer experiences you want to provide, and the business ideas you put in place will make hiring people more necessary.



Building your team carefully.
Know ahead of time what you're looking for in a colleague and member of your staff.  Not only do you want to enjoy working with them, but they also represent your business. Additionally, once you know what potential customers want, you can make better decisions about the kinds of strengths, skills, and experiences you want your people to have.



Creating a strong team and culture.
Both you and your people want to feel like part of something bigger, meaningful, and important. This is more challenging in a virtual business but probably even more important. 



Striking a balance between leading and managing.
Doing both of these well is key to keeping great talent on board. People need and want clear guidance and direction from the business leader. However, they also want you to support them as human beings. How can you do both well? Business owners may benefit from coaching and/or leadership training to learn necessary skill.



Being willing to adjust.
You'll need to tweak your expectations, systems, and processes as you go. What you need and how you work will likely change as your business, industry, and personal goals evolve. If you don't like adjusting, is this right for you?
At the end of the interview, Andrea provides practical tips for what you need to think about if you want to open or grow a successful business in a less traditional way. You can have a model that's different from what others are doing while still being honest and ethical.
Resources: 
To learn more about Andrea and her practice: www.therapyconnectiononline.com

If you want exclusive content and tools to help you grow your business and marketing without all of the overwhelm, join the Simple SEO Systems email community. Go to www.SimpleSEOSystems.com to sign up right now on the homepage. 
Business In Between, Episode 01:  Transcript
Please excuse any spelling and grammar errors in the episode transcript below.
Dr. Ronit:
All right, Andrea, thank you so much for joining me today. It's so good to have you here as always. It's wonderful to have any chance to talk to you. So thank you.
Andrea:
Thank you for having me. I love talking to you too. It's been too long, so I'm happy. Thank you.
Dr. Ronit:
Thank you. Thank you, absolutely. And just to introduce you to everyone, you are founder and CEO of Therapy Connection Online, and that is a group practice that provides online therapy for individuals, couples, families, and groups.
And there are two big things that you did that I want to feature and talk about and shout from the rooftops today. First of all, you broke the cardinal rule of thou shall start an individual practice before starting a group practice. You jumped right into starting a group practice. And then also you started an online practice before COVID was ever a word. Any of us had ever heard of that was the business model you launched with before it was cool to do it.
So, I'd love to pick your brain about how did all of that come about the, where the ideas come from. And we can just go from there with what was the process, what you've learned and what you would tell other people who want to break the rule.
Andrea:
Oh yeah.
Dr. Ronit:
One way or the other, but might be afraid to. Right?
Andrea:
I will. Yeah, I will else say it's very, we're gonna get personal very fast, but I have to say, my mom always said, even before I was born, I never followed the rules of what I was supposed to do. I was like, I don't even know how many days late or something. And she was like, Andrea was always gonna do what Andrea wanted to do on her time and in her way. And ever since then, I always have.
So, I found Therapy Connection in August of 2019. So right before the pandemic hit. Yeah. Whenever I tell people that I always tell them, I don't have a crystal ball. I promise you, I did not know the world would need telehealth in the way that we did a few months right after, but, but here we are. And I created it as a group practice, the purpose for doing online, you know, there's so many different areas and arenas of online therapy, even before this, you know, text based therapy and whatnot.
Andrea:
But I wanted a space that was really a group practice feel. I've been fortunate enough that I've worked at incredible group practices before and I've had incredible leader. And I wanted to create that space for therapists as well.  But doing online therapy again, twofold, it was, I wanted to create access to care. Right. So being able to have clients go on their lunch break before work, after work, the weekends, I wanted to create that space for people. And I know I'm an early bird. I like being up early. So I knew I could have those clients early in the morning and on their lunch break. But I also needed people that were gonna fill the hours of like the evening time and the weekends. So I jumped right in and created as a group practice. And I was, I was very fortunate because the people that have been a part of my team really are phenomenal. Like I couldn't have been more fortunate to work with better, better people within my practice. I'm really thankful.
Dr. Ronit:
That's wonderful. So when you started looking for clinicians, what were you looking for?
Andrea:
So honestly took people that weren't doing telehealth before. Some people did, some people hadn't, some people were new, I usually hire based off of like how the conversation goes, even in the interview. If I feel that you are genuine and authentic, that's, that's what I'm going to go off of and dedicated to, you know, this job is a very flexible one. And I wanted to create that space for clinicians mainly because I know for myself in community-based organizations, it's very typical that clinicians get burnt out very easily.
Yeah. So I wanted to create the space that this job was going to be flexible for clinicians. And they were going to want to do the work that they wanted to do, because then I knew they were giving the best care to their clients. So I looked for a variety of different clinicians from different backgrounds, from different styles and people that were able to have the flexible schedule. Some of my clinicians work this as their full-time position. Most of them do this as a part-time job, but they don't mind doing it part time cuz they like coming to work after work and, and being able to be dedicated to their clients. And I adore them for that.
Dr. Ronit:
That's wonderful. So it sounds like they each bring something different to the table.
Andrea:
Oh yeah. Yeah.
Dr. Ronit:
And it's not like you were purposefully seeking that out. It just happened to be that's who came into the mix.
Andrea:
It's their very funny, because I, you know, when I went in with the intent, I'm gonna have a group practice. I was just like, it's gonna be clinicians. Right. Like I wasn't thinking, right. I definitely broke the Cardinal rule because when you're building a group practice, you're like, I wanna have all these different styles and these different techniques. And I wasn't looking for that.
I was just looking to be able to put the clinician for a, because I, I knew if I'm putting the clinician first, we could put the client first. Right. Because I'm gonna get the best people giving the best care. And it just so happened that I, I had people from all various backgrounds with their resumes. Yeah. Like so different. And I've been able to then work with them and work on their bios, which you helped me with, and with the website, to be able to like really highlight that. So when people are searching for a clinician with that type of background, then they're finding it, you know, and they're finding it with us.
Dr. Ronit:
I was so impressed when I was working on your website with just the sheer number of specialties.
Andrea:
Oh yeah. And I get into that on purpose. Yeah. Yeah, yeah. It's, it's it, like I said, it's, I've been very fortunate to connect with them and they all are so dedicated that I I'm very thankful. I always say too, I like to be the leader that I'm not necessarily the wizard of Oz. Right? Like it's difficult when you're building a remote practice and you don't know who you're working for. I want my employees to know that they're here working for a person and not this like computer. Right. So I, I like to have close connections with them and, and talk to them and, and get to know them so that I know the, the type of client that they're gonna want support and that they can support too. Cause that's important.
Dr. Ronit:
And so to that very point, and I think a lot of us have struggled with this during COVID and after, as we continue for many of us teletherapy practices or hybrid practices, is how do you build a culture when it is remote? Because of how most of us trained, your supervisors were two offices down and your colleagues across the hall. So how did you do such a great job of forming a cohesive team?
Andrea:
So I had worked prior to building prior and during, while I was building this practice, I had the opportunity. I grew within my role at the nonprofit I was working at for close to eight years, incredible work that they do there. And I grew into a role that I was overseeing the HR department. So staff development was super important. Out of about 550 employees that we had there close to 300 of them were remote or out in the field.
So being able to connect or know what their needs are, was something that we were dealing with every day. So with that, I got very used to building trainings on the computer and making them feel more humanistic than just like, here's another training video, here's another training video. So, even the EHR that I use for my clinicians, it comes with videos, but I took my own videos with my own voice so that they know that it's not just me giving them the system.
I went in and showed them one how I want for things to be set up. But two, I'm here doing this right alongside you. Like I'm not leaving you of high end. Right? Like you're gonna know that I'm here and we're gonna troubleshoot together.
And I always open the door for feedback from them too. I want them to know that this isn't just me being a supervisor. They're just as much a part of this as I am. So I send like biweekly emails to them sometimes just with a corny quote sometimes with like this birthday, sometimes it's like, nothing is just like, Hey, popping by. But the whole organization gets an, a weekly, a biweekly email from me just so that they know I'm here. I struggled too knowing what even is my company culture. And I meet monthly with two other group practice owners.
And I always say to them, I'm like, I don't know what my company culture is. I don't know. I wanna make sure that I have a good company culture, but their work is very different than mine. They're in person. So they're like, maybe you are riding so hard in a company culture and you don't really need to be. I'm like, oh, maybe I am. So I think just like knowing that they have that access to me is what the culture is. Right. And the ability to be in a flexible space so that they can take time for themselves when they need it.
Dr. Ronit:
It sounds like the culture is doing what you need to bring out the best in them. Yeah. And knowing that they have access to a person. Yeah. And like you said, they just don't work for the machine.
Andrea:
Which I think is so important, especially in this like remote world that we're now in still, right? Like it's so easy to just like work for something and not even know what the end result is, but I always love updating them, even if it's, we're expanding to another state and it has nothing to do with them. It still does cuz they still work for this company. And I want them to know they're a part of what's making those, those ripple effects happen for us to grow.
Dr. Ronit:
So that's actually a perfect segue to the next question I was going to ask you anyway, which is, you know, there's that rule book for how to start a group practice. Clearly that went out the window. When you think about it, if someone were to come to you and say, listen, how do I start a group practice? What advice would you offer them? Just based on your own knowledge, your own insight, your experience, everything you've done so far. Forget the traditional playbook.
Andrea:
Yeah. First off that would be my first thing. Right? Like forget the traditional playbook. I think depending upon where they are too, knowing whether or not they need independent contractors or W2, right? Like that's one thing that I had to learn.
Knowing if they're already an individual or if they're gonna jump two feet in, right. So if they're in individual practice, they might have their name as their practice. They might wanna add associates or they might wanna make it a name that's gonna be broader. I'll actually talk about how I came up with the name too in a little bit. But I think just even allowing them the opportunity to know, okay.
Map out what it is that you want as far as the group practice and how much access are people going to have to you. Right. Because you don't want them to have too much, but you don't want people to not have access to you at all.
Being a group practice owner, you are a leader in that sense. Right. So people are going to turn to you and it's a matter of knowing if you have that skillset. Yeah. And also just ability to, to say, okay, you can lean on me for the support when you need it. Right. So maybe telling people, starting off with two employees at a time, I did not do that. I did like four or five. Yeah. But I think also too, knowing that if you're gonna be starting out with four or five, make sure they're four or five very different people because you wanna make sure that you're bringing on clients four, each of those people too, right. You don't wanna get too heavy on one and one person not have clients at all.
Making sure that there's that balance that everyone is getting enough of your time and getting enough clients too is, is important.
Dr. Ronit:
So playing off of something, you've just said, how do you know if being a group practice owner is a good fit for you, right. Because we're, we're always told, have your individual practice and grow it big. Then, bring on associates and go from there. But that's not always a good fit for people.
Andrea:
No. Right.
Dr. Ronit:
What sort of advice or guidance do you have about trying to gain that sort of insight and really knowing that about yourself?
Andrea:
I think just that you just said, right. It's knowing yourself. I will say that even we're going into what August will be two years [3 years in August 2022], that that we're open. I still am learning things about myself, but I'm also open to that.
If you are a person that you think that this only going to go this way, it's my way or the highway. Then, group practice might not be for you. Right. You wanna be able to have input from your employees or your independent contractors because they're the ones that are also running your business with you, right? Like at the end of the day, it's, it's a business too. So you wanna be a person that's open to it.
You wanna know that everything is not going to go the way that you planned for every endeavor and you have to kind of be open to going with the flow.
I will say I was not a go with the flow. I'm giving so much advice that really isn't me. But it's like, I flipped a switch. It's like I flipped a switch one day. And I was like, you know what, no, I'm gonna be open to all these things.
So going into practice, I was like, I'm gonna be open because if I'm open, then it's gonna open opportunities for me. So being able to be open to feedback of what employees are gonna tell you and just open to the idea that things change every single day and the work that we do.
And I think also too, knowing not necessarily your leadership style, you don't necessarily have to take a quiz on it, but just knowing what it would be like to be a leader, right? When you have the employee that is coming to you and needs to take off time, or the employee that comes to you and is not happy with the client that they got, how are you gonna react to those types of things, right?
It's, it's also a matter of being a good manager and managing and putting out all the fires that not, if they come, they will come. So knowing how you're kind of gonna absorb that.
Dr. Ronit:
And the distinction that you made between these two rules is so important. The manager versus the leader. Yes. Right. Slash the person who develops therapists. They're both really necessary, but they're so different.
Andrea:
And I think that's, and if you are the same person, right. If you're the manager and the leader, it's a very thin line to walk sometimes when you are with your employees and it's knowing your own personality style to say like X, Y, Z is expected of you.
But I also want you to know that I'm expecting you to go, or I want for you to go here within your role and within your career. So it's, it's kind of learn learning those nuances. I would say, even just like reading leadership development books, right? Like starting even there, because being able to lead is just so important in our work. And especially as group practice owners, just being able to lead is important.
Dr. Ronit:
I think in our work, there are too many managers and not enough leaders. Way too many clinical supervisors, whatever you want to call them, who are so focused on here's how you do this, here's how you write the note. Here's the policy, the procedure. And we absolutely need that to practice ethically. Right. Then there is that part of the human element because of what we do, you know, you truly are bringing yourself to work. You are it.
Andrea:
Right.
Dr. Ronit:
And to have a manager slash leader who understands both parts of that, of the job.
Andrea:
So even when I interview right now, right I'll interview and I, I bring that to them. I'm like, my job is to make sure that you are enjoying the work that you're doing, which is the therapy side of things. So the way that I have my practice set up is they don't do anything outside of the therapy and the notes. Right. Everything else is handled by my incredible assistant that you connected me with. She is an angel on earth.
Dr. Ronit:
A virtual assistant is the way to go, people.
Andrea:
Oh, my goodness. Yes. I'm so thankful when you suggested that. So that's another thing too, right? Before I spoke to you, didn't I tell you, I'm like, I have it clear of how, what I want. I want my office assistant. My admin assistant is all that I want. And I hired someone and I wanted to make sure XYZ was done. It was gonna be my way. And then you're like, just play around with the idea of a virtual assistant. I don't know how I ever lived without her before. She's fantastic.
Andrea:
But that's what I mean. So being open to like knowing it's okay, that if your plan doesn't go the way that you're anticipating it to go and being open to that. But when I interview, I bring on employees. I tell them we have a virtual assistant that does all the other things. Your role is your role, which is the therapy and the notes. That's how I set it up. Right. And it's many are like floored by that, by that idea, they're like, wait, I don't have to do the billing. I don't have to submit time sheets. That's just how I have it set up because my company culture or the way that I wanna do things and the way that I want my employees to be is that they're there for their role, which just the therapy side of things.
Dr. Ronit:
It sounds like, through trial and error, you have figured it out and are still figuring out: What works for you and what also works for the people who work for you. Yeah. And both sides feed into and off of each other.
Andrea:
I think, I think that's a big part of being a leader though, is like getting that feedback from them and knowing what is, or is not working. But I'm so thankful to, I know I keep saying it, but I, I really like, I I've been a very inflexible lately, but I really am just so appreciative of how flexible the staff that I have are the clinicians that are so flexible and they will give me feedback. And I appreciate that. They're not shy to do that either. You know, making sure that you have that rapport, even with your clinicians is, is crucial, honestly, you know?
Dr. Ronit:
Absolutely. Because it will bring out the best in them and you will also be someone that they want to work with.
Andrea:
Right, right. Yeah.
Dr. Ronit:
As opposed to creating a revolving door.
Andrea:
Right. Right. Which can, which can happen in group practices. You know, it, it can, I'm, I'm very happy with who we have on staff and we're growing. So I'm happy for that too.
Dr. Ronit:
That's fantastic. So one last question about the group and diving in, despite what the rules say. If someone listening to this is thinking about breaking the rules, starting an online practice, right out of internship, or they want to start a group practice, whatever it is they want to do and break that mold, that formula that we're told we have to follow.
What are two or three really key things that you would tell them to think about as they're planning it or as they're launching it?
Andrea:
I would say knowing what your vision is for the space. So for me, I mentioned it was like access to care for clients and a space that clinicians wanted to work vision of what you want the practice to be. Right. Do you want it to be therapy only? Do you want to add a psychiatrist? Do you want to add other things? I created it to be therapy connection because we're not only therapy. We're going to be adding psychiatrists. We're going to be at continuing education.
Dr. Ronit:
That's all awesome!
Andrea:
Yeah. We're gonna add a continuing education department. We should be coming out with that in the next week or so.
And I guess truth be told, just knowing what your vision is even five years from now.
And knowing that it's okay to tell yourself no, not right now. Or put the pause on some things. Right. So if you're hiring two people, let's say, but there's like five that are there that you want. But you know, you can't take that on. It's not the time right now. Right. Like knowing not to, I did that. I was like, yeah, we're gonna be in New York, New Jersey, another state. We were in a million states. And then I was like, wait a second. What did I just do? It's okay to pull the back and then go again when it's time. And that's what we're doing now.
Knowing that there's really, you're not going to make a mistake by doing it the way that you want allow yourself. What's right for you is what's right for you and no book or college course could ever tell you otherwise
Dr. Ronit:
Totally.  A hundred percent. It has to fit or else, what's the point?
Andrea:
Right?
Dr. Ronit:
Thank you so much for sharing.
Andrea:
Thank you!
Dr. Ronit:
If people want to learn more about you and Therapy Connection Online, where can they go?
Andrea:
www.TherapyConnectionOnline.com
Dr. Ronit:
All right. Perfect.
Thank you, Andrea, for joining us today, I look forward to having you back on the show again, to pick your brain about all of the very important things that you are able to teach us in other ways.
Andrea:
Awesome. Thank you. I appreciate it.
Dr. Ronit:
All right. I'll talk to you soon. Bye.
Conclusion to the episode (by Dr. Ronit Levy)
Thanks for joining me on this episode of the business in between podcast.
If you enjoyed this episode and want more information on growing your business on your terms, make sure to join the Simple SEO Systems, email community. You'll get exclusive content and tools to help you grow your business without all of the overwhelm. It's also a really easy way to get in touch with me.
Head over to www.SimpleSEOSystems.com to sign up now.
If you enjoy the show, please rate and review it wherever you get your podcasts.
I'm Dr. Ronit Levy. Thanks for joining me today. Talk to you soon.