Starting a successful blog is difficult. With so much content online, it's hard to stand out. Jill Sandy started blogging during Covid as a way to share her love of gardening and help others. In this interview, Jill talks about how to start a successful blog, build credibility, grow an audience, and create additional income.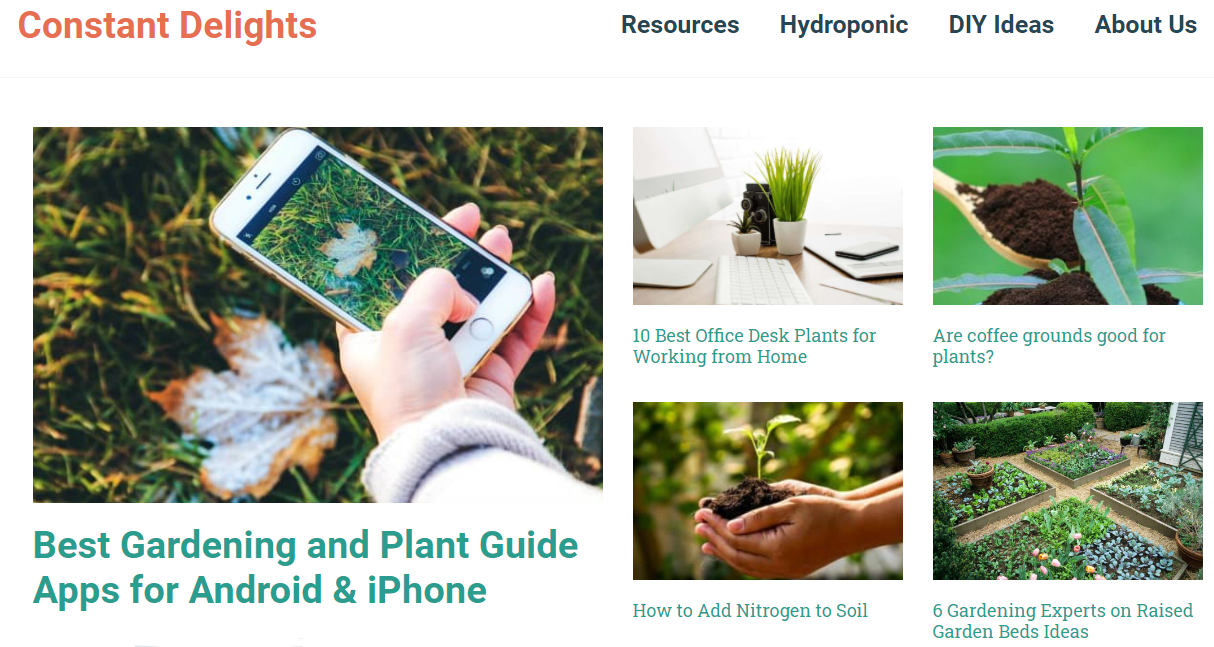 How to choose a blog niche
Jill Sandy started her blog, Constant Delights, when Covid struck and she was stuck at home. As a fan of sustainable gardening, she decided to focus on that niche within the highly competitive gardening blog world.
Instead of trying to appeal to everyone, Jill decided to create a blog that helps people with similar interests. She helps other sustainable, home based, gardeners by sharing her learnings as well as progress on her projects. 
Her first hand experience with this kind of gardening allows her to write in-depth, creative posts as well as recommend useful products. As a result, her audience sees her as an expert who is relatable, helpful, and credible. This helps her build both trust and authority in her field.

How to create a successful blog
Most bloggers fail because they don't write about topics they're truly interested in, produce engaging blog posts, and publish consistently. Jill has created a blog that's taken off by combining: 
Search engine optimization

 (SEO) best practices.

Careful keyword research.
A focus on quality over quantity.
A genuine interest in her niche.
Social media to build an audience and drive traffic to her site.
Collaborations with other bloggers to find opportunities and build credibility.
Ways to make her blog unique, even in a small niche.
Meet Jill Sandy, Founder of Constant Delights
In this interview, Jill walks us through the key steps of:
1) How did you choose your blog niche?
COVID struck and I was stuck at home, so I started my own indoor gardening. I did my research and came across many wonderful gardening blogs. I found an interest in gardening, and decided to blog about something I want to share and write about.
The gardening niche has many strong competitors, but the niche is wide enough to focus on some sub-topics and build authority slowly. During my keyword research, I came across many weak sites that rank well, signaling there's a chance that I could break in, should I work hard on my SEO effort.

2) Why did you start your blog? What were the first steps in setting it up?
I found that blogging is a good way for me to document my learning, share my knowledge and get to know interesting people (whether in-person or virtual).
For my blog set up, I use WordPress, as it's easy to use and I'm not a very technical person. Here's my setup (I mention because I use them – no affiliate links):
Cloudways for hosting
Elementor for drag-and-drop blog design
Google Drive for documents storage and collaborative work.
Ahrefs for keyword research
Click Up for a project management tool (as I need to assign and manage tasks for my freelancers). Their free tier is really generous.
All the articles are written in Google Doc, insert images via Pixabay Google Doc plugin (copyright free and high-quality images).

I then use 

Mammoth WordPress plugins

 to import the Google Doc directly to WordPress for publish (the plugin handles images well). It's a great time saver! 

3) How do you pick the topics you write about?
I started with my most familiar topic, hydroponics, as it's the technique I practice at home. I map out all the relevant articles in one topic, with a common formula (roughly):
One ultimate guide (example of an

 

ultimate guide on hydroponic

)

. It's the most comprehensive article, about 3000+ words, some even reach 6000 words. I try to cover all angles of the topic.
60% informational article, answering different questions about the topics. These articles are good for link building, and channeling your SEO link juice to your buying guides. Those are the hardest to build links to.

20% listicle articles (e.g., 

41 yard art ideas). Listicles performs well on Facebook and Pinterest.
20% buying guides: I lay out what criteria you should look for before making a purchase.  Then I list 5-7 products that readers could consider, based on their needs. These articles are monetized and contain affiliate links, mostly pointing to Amazon.
4) What do you do to build a strong online reputation as an expert in your space?
First, cover one topic extensively, and cover it well. If you have 20 articles about 10 different topics, you are not an expert in any field. Instead, make 20 articles all about Hydroponic, you'll more likely make a splash.
Second, I use HARO (https://www.helpareporter.com/) to answer journalists' questions. If the journalist found my sharing useful, I will appear on their article, usually with a link back to my site. Some journalists only mention me by name (without linking), but it still helps a lot in terms of establishing authority.
Lastly, I reach out to relevant bloggers asking for guest posts. It's still an effective way to get your name out, as most blogs will allow you to have a small biography at the end of the article.
5) Why did you decide to have a medical reviewer as part of your staff and what role does he play? How does having a medical reviewer add to the authority and credibility of your blog?
When I was doing HARO (mentioned in the question above), I realized there were many questions requesting the source to have a medical degree. I couldn't answer those, and I thought that those questions might be less competitive (as the eligibility criteria are high), so I enlisted my doctor friend to help.
Well, it turns out even with the help of a doctor, those queries are still hard to tackle, and the success rate is low.
Anyway, I realized having a medical reviewer could be my unique angle. I have some articles where I mention something about health (e.g., healing gardens). Those claims need to be verified by a field expert. Google is also strict on the author's expertise, so it's great to bulletproof your content.
His role is to read through articles that touch on health issues and make sure that my claim is correct. 

6) Is there anything unique about your blog and/or blogging process that you want to make sure we know?
I've mentioned all on the questions above, but let me sum up:
Focus extensively on 1 topic before moving on to another. It helps establish your authority faster and makes it easy to do internal linking.
Use different types of articles to cover one topic hub: Ultimate guide, buying guide, informational, and listicle. Each type is good for certain social media and promotional channels.

Publish great content. Be like 

Jeff Bezos, CEO of Amazon: Instead of focusing on your competitors, focus on serving your customers. You can never go wrong with it.

Next steps to creating a successful blog
Jill's process and success highlight how important it is to:
Write about something you're interested in and care about. 

Focus on what your audience needs and wants.

Serve a specific group instead of trying to appeal to everyone.
Build expertise, authority, and credibility.
Consistently publish new material and share it in different places online.
When you combine these factors, you'll be able to write blog posts that people want to read and share, publish consistently, set yourself apart from the competition, find opportunities to get in front of new audiences, and create additional income streams. 
Most importantly, you'll be motivated and interested enough to keep this up.  Just that will set you apart in a crowded online space in which most bloggers give up quickly.
Good luck with your blogging efforts!
Ready to build a strong online reputation, boost your SEO, and grow your business?
Contact me now so that we can get help you and your business thrive!