Most of your future clients are looking for you online. The higher you show up in search engine results, the more likely they are to click on your site. If they learn about you, they're more likely to hire you. DIY SEO can help people find your website, grow your business, and increase revenue. This post will give you step-by-step instructions to help you DIY your SEO and stand out online.

When someone types a question or phrase into a search bar, the search engine wants to show them the most thorough, accurate, and up-to-date answer.
Search engine optimization (seo) helps a search engine find your web page and show it in search results. The more your content comes across as trustworthy, relevant, and thorough, the higher you'll rank.
SEO is made up of 4 pieces:
  creating relevant content.
  using keywords that match what people are looking for online.
  building a strong online reputation by posting and participating on different platforms.
  taking care of technical SEO factors.

Can you do SEO yourself?
 There are many parts of SEO that you can do yourself. You can make a lot of progress if you combine:
learning best practices.
using a few SEO tools.
practicing regularly.
tracking your progress.
being consistent.
 Good SEO is the result of doing a few key steps consistently. As you get comfortable with SEO, you can add more steps. Remember, optimizing a site is a long term process because you're building a frame work for how you show up online. It can take 6-12 months of consistent work to see significant results.

Can you do SEO for free?
 Yes, you can do SEO on your own for free:
You can find a lot of information on YouTube and in blogs.
Many of the top SEO companies have free online guides and courses.

There are many Facebook groups devoted to helping people learn SEO. For example, you can check out my Facebook group, 

SEO Systems Success. I help group members succeed with SEO without getting overwhelmed.
However, DIY SEO is going to be more difficult and take more time than having SEO done for you:
A lot of the free information out there is wrong or outdated. It's hard to know what to trust when you're just starting out.
It's hard to figure out where to start.
The field of SEO changes very quickly. It can be hard to keep up with these changes.
 Hopefully, this guide gives you a good place to start and makes ranking higher in search engines less scary.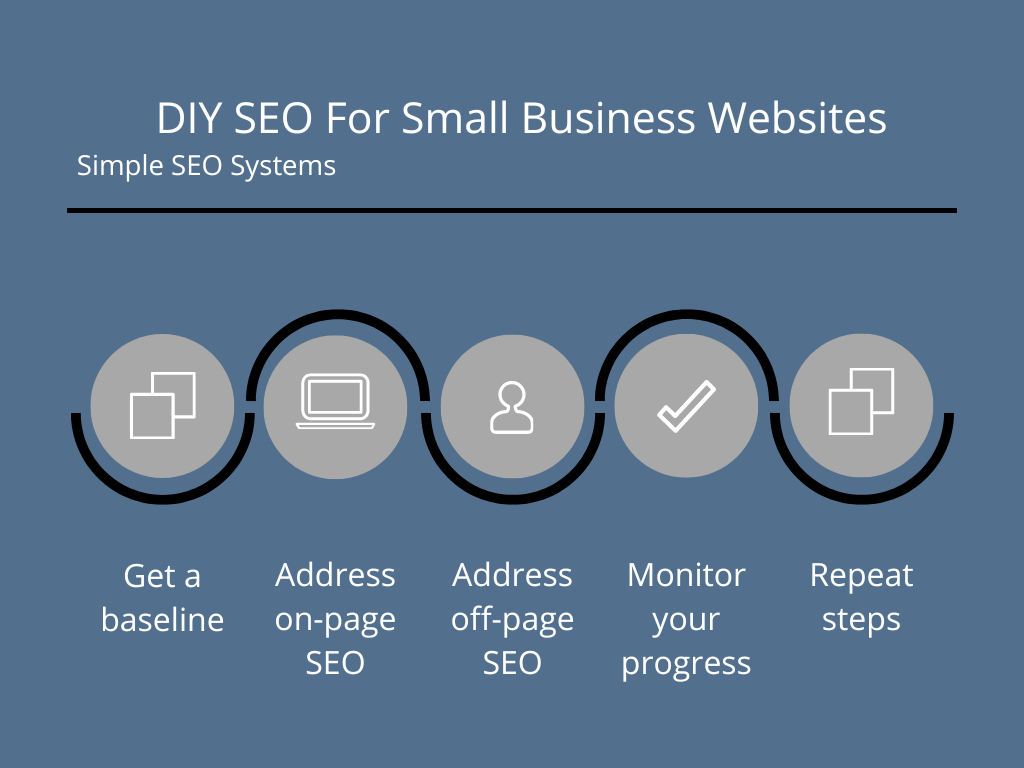 The 4 Steps for DIY SEO
DIY SEO Step 1: Get a baseline
Whenever we start something new, we need to record where we are now so that we can track our progress.
When you're just starting out with SEO, use Ubersuggest.com to record a few key numbers.  Ubersuggest is a free tool by SEO master Neil Patel.
Step 1: Enter your URL into the search bar and click on Search.
Step 2: Look in the left margin for a section called SEO Analyzer.
Step 3: Click on SEO Audit. It can take 5-10 minutes for the results to load.
Step 4: Record the following by writing it down or taking a screenshot:
SEO errors are formatting and technical issues that are hurting your SEO. They are split into three groups based on how badly they will hurt your SEO. Address the medium and most severe first. Fix them or hire someone to do it for you.

DIY SEO Step 2:  Address on-page SEO
On-page SEO means working on anything that impacts the webpage and website.
People tend to like on-page SEO because we can see it. So, it makes us feel in control.
However, don't put all of your eggs in the on-page SEO basket. If you don't address the other parts of seo, Google and other search engines won't show your site. Make sure you work on off-page SEO as well. We'll get to that in the next step.
Here are 4 key on-page SEO factors to focus on:
1) Create quality content:
This is essential for building a reputation as an expert. People need proof that you know what you're talking about. They need to trust you if they are going to ask and pay for your help.
Posts and pages should give people thorough answers to their questions. Don't worry about telling people everything they need to know about a topic.
Google the topic you're writing about.
Look at the "Questions Also Asked" section.
Answer 2-3 of those questions in your page or post.
If you follow this method, you'll provide visitors with a good enough introduction to the topic. You'll also increase the chances that search engines will show your post when people type in those questions.
2) Break up blocks of text :
If you leave big blocks of text, people will quickly leave your site. If a lot of people leave your site quickly, Google might assume there is something wrong with it.   This hurts your SEO.
Your goal is to make it easy for someone's eyes to move down the page.  The easiest way to do this is by breaking up the text.
You can break up your text a few ways:
Put high quality pictures, video, and/or graphics in between paragraphs.
Leave white space between each paragraph.
Make your subheadings a different color than the rest of the text.
3) Use keywords and their synonyms throughout the content :
A keyword or key phrase summarizes what your web page or post is about.  Each page or post should have its own keyword.
This is how keywords work:
People type specific words, phrases, and questions into search bars.
Search engines scan web pages for these keywords to find the answer to the question asked.
The search engine shows the web pages that best answer the phrase or question the person is looking for.
You can find keywords, key phrases, and their synonyms by using a tool like Ubersuggest.
Type the word or phrase you want to write about into the Ubersuggest search bar and hit enter.
You'll get a list of words and phrases that people are currently looking for.
Make a list of the keywords and phrases you can use.
Click on the words alternatives and questions to see other suggestions. Add these to your list
Use these words, phrases, and questions throughout your page.
4) Make sure every page and post has a main title and subheadings with the keyword in them :
Your main title is the first thing people see. You have 15 seconds to explain how your site is relevant. The title should tell them exactly what the page is about and how it can help them.
Break the text up using subheadings. Each subheading should introduce one idea. Subheadings help people move down a page.
Ubersuggest will give you a list of different words and phrases that people are using to look up your services. Use these in your heading and subheadings for every page and post.
5) Write a meta description for every page and post :
Meta descriptions are the short descriptions that visitors see under the title of your page in search results.
Use your keyword or key phrase in the description. Then, Google and potential clients can quickly figure out what the page is about. This is something that 67.4% of Databox contributors think you should always do,according to the latest Databox article on writing the perfect meta description.
Balance describing your content with keeping it short. Descriptions are usually 50-160 characters long.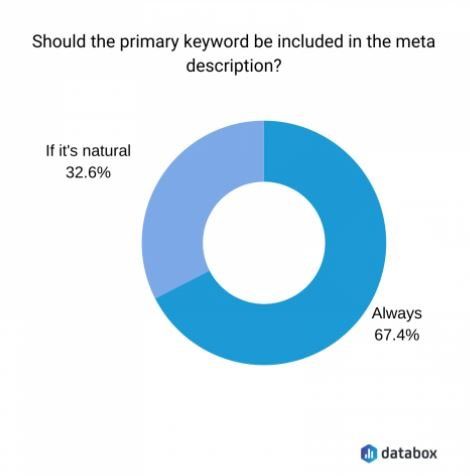 DIY SEO Step 3:  Address off-page SEO
Off-page SEO is about the steps you take throughout the internet to build your online reputation.
Google and other search engines want to see that people can interact with you in many ways online. If you're really an expert, the expectation is that you'll be present in lots of places.
Search engines also want to see that different sites are willing to link to you. This is like having someone vote for you or give you a reference.
Off page SEO tells Google and other search engines that your site is legitimate and worth showing.
Here are 3 key steps for maximizing your off-page SEO:
1) Build trust:
You must make sure your site is secure. We've heard too many stories of even major companies getting hacked. People quickly leave sites that are not secure.  Search engines don't want to send people to sites that aren't safe. It makes them look bad.
The way you make sure your site is secure is by having an SSL certificate. It's not actually a certificate.  A security certificate is a collection of data that protects the signals going from a visitor's device to your website.
You know your site is secure if you have a padlock or the word "secure" next to your URL.
If your site is not secure, you can get an SSL certificate through:
the company that manages your domain name (e.g., GoDaddy).
your hosting platform (e.g., Bluehost).
the company that hosts your site (e.g., Squarespace, Wix).
2) Build links:
A link between two websites is called a backlink. It means that the original website is creating a bridge for their audience to go visit your website. Search engines consider these a reference.
The more links you have, the more SEO points you get.
However, here's a key part of link building that people often miss. Google wants to see links from websites that have a good reputation and are related to what your website is about.
Here are some ways to get backlinks to boost SEO:
Get listed on local and professional directories.
Guest blog. Make sure your site is in your bio or in the body of the article.
Be a guest on a podcast and/or start a podcast. Make sure there is a link to your site in the show notes or transcript.
Be in a YouTube video and/or start a channel. Make sure there is a link to your site is in the description.
3) Build a presence on social media:
It's not enough to just set up a business page on Facebook or LinkedIn.
The point of using social media is to drive people to your website so that they can complete a certain step like:
signing up for your email list.
reading and sharing a blog post.
purchasing a product.
booking a consultation.
The more people see your posts and/or videos on social media, the more interested they become in you. They'll want to know how you can help them. This drives them to visit your site and refer others.
Information you can share on your social media includes:
pictures/images
quotes
blog posts
articles
information about you and your practice

DIY SEO Step 4:  Monitor your progress
Optimizing a web page or a whole site is a long-term process. Once you make a change, you'll have to wait at least 3-6 months to see a significant change.
You'll have to wait longer with a new site.
The only way to know if you're improving your seo is to keep track of the steps you took and the results over time.
1) Audit your site :
Every 3 months run your site through Ubersuggest's website SEO audit tool like you did in the first step. Write down the results for the same key performance indicators.
You want to look for the following improvements:
The site is getting more organic traffic every month.
More web pages and posts are ranking.
The pages and keywords that were already ranking are ranking better.
Your page speed is still 3 seconds or less on both mobile and desktop.
There are fewer SEO errors.
2) Track and record your progress:
If you're noticing steady improvement, keep up the great work! You can now build on this progress.
If you notice no progress or a drop, look at what's happened in the last 3 months.
A few things to look for include:
Did a competitor run a campaign or some other online activity that drove a lot of people to their site?
Is your page load speed slow or did it get slower?
Did your SEO audit on Ubersuggest show that you had a lot of major SEO errors?
If your lack of progress or drop is due to something you can identify, do what you need to fix it. This may include hiring an SEO consultant to help you out.
Make sure you write down what you changed and the date you made the change. You'll want to add these changes to the items you track every three months.
Next Steps in Doing SEO Yourself
DIY SEO is a process. It's going to take time and patience. Keep a few key points in mind:
Apply the 80/20 rule to SEO. Spend 20% of your time learning about SEO and 80% of your time doing it. The best place to practice SEO is on your website.
It can take 6-12 months to generate any meaningful SEO results.
Boosting SEO is the result of many factors. That's why you need to use on page and off page SEO strategies at the same time.
It's really okay if SEO isn't something that fascinates you. Learn enough to ask good questions, take care of the basics, and know when to hire an SEO specialist.
Ready to build your online reputation, boost your SEO, and grow your business?
Contact me now so that we can help you and your business thrive!